Ordering your favorite food through food ordering websites in UAE is more than just a matter of convenience these days. Customers just have to hop on to their favorite food ordering portal; add a few delicacies to their cart and check out. The rest is handled by the restaurant and an agile delivery agent who doesn't take too long to make those deliveries.
That's perhaps the easiest part.
For customers, the experience is all about reliability, comfort, and the quality of food. In that sense, food ordering websites owners are striving to upstand a benchmark standard that helps them to deliver on various forefronts without compromising on anything.
According to a recent survey from Simon Kucher & Partners, people have become increasingly aware of different factors whenever they reportedly use food ordering websites.
The top of the list takeaways emphasizes two main variants – i.e. the quality of the food and the taste of the food. Other standards are tied to walk-in-dine experience, which, you need to work on if you own food business in the UAE.
On the contrary, if it's about using food ordering websites in UAE, the price of food options, menu variety, and available discounts work like a charm every time. People love it when their favorite restaurant tantalizes customers' taste buds with enticing new deals, first-time promo offers, and many other things that help to bank on a satisfactory customer experience.
Blink is your #1 Online Ordering Platform for Restaurants
This post highlights some of the best food ordering websites in the UAE.
Why so? Because it's not only fast and convenient as opposed to ordering your food in a walk-in diner, but we also didn't want the current pandemic lockdown situation to deprive you of satiating your culinary desires.
To that effect, we have also detailed a tad bit of standards that restaurants and food ordering website owners need to follow towards ensuring a delightful business transaction for each customer. Read on…
Customers Beware! Don't Forget to Do Due Diligence BEFORE Using Food Ordering Websites in UAE
Before we list down the best food ordering websites for UAE food lovers, it's better to share some tips that have been known to supplement the effect of what customers like to call: "A smooth online food ordering experience."
The funny thing is that a lot of first-time, unsuspecting customers, whether they are from the UAE or some other part of the world, fall for any food ordering application without doing due diligence. As a result, depending on their first-ever impression of a said food ordering website, these customers may or may not use that restaurant's services in the future.
From a general point of view, many online F&B (*Food and Beverages) platforms in UAE offer a straight discount to first-time users. Some of them don't. Alternatively, you can stick with a tried and tested food delivery app in UAE that, although doesn't offer a flat discount, but makes up for that through a highly reliable ordering system.
Other than that, there might be perks to using food ordering websites where some benefits are offered to sweeten the deal. Perhaps, it's high time for you to keep these tips in mind, as a reminder for ensuring that not all food ordering websites in UAE are the same. Some of them truly offer a 5-star food ordering experience, while others tend to bank on their name-brand reputation without treating their customers as royalty anymore.
Location-Based GPS Tracking:
This one's a common feature available on several food ordering websites in UAE.
However, since the COVID-19 situation affected many business owners in the industry; especially the ones who had to foreclose their previous business and hop right on to the food ordering startup business, the basic location tracking system is often overlooked.
In a way, if you are using food ordering websites for the first time, regardless of whether it's in the UAE or some other location, make sure that they have a rider tracking system available. It makes it that much easier to track your order's location and contact the rider, in case he happens to be heading in the wrong direction!
Customer Referral Program:
Does your preferred food ordering website have a rewards program?
You know, whenever you refer so n' so number of people to use a specific application, does that app reward your efforts for bringing in those extra customers through a discount deal, or something that helps to alleviate your online food ordering experience from that food brand?
Sometimes, food ordering websites in UAE and other countries, also reward their loyal customers who bring in a significant chunk of referrals, through money! This amount is automatically credited to your account so that you don't have to pay a dime the next time you place an order for your favorite food.
In a very special way, your mobile food ordering app should have your detailed referrals, orders, and other activities to help you keep track of your history. As a result, if you continue to visit that particular food ordering website(s), you can keep tabs on your "performance to rewards" ratio without any hassle.
Reliable Ordering Process:
For any number of food ordering websites to thrive and reduce customer churn, the ordering process has to be sublime.
Beyond a fast-food delivery service, the ordering experience for your favorite mobile food ordering app, or food ordering UAE website, make sure that the process itself is easier.
Do you have to go through several hoops before placing your food order? Are there limited payment options? Did you have a hard time having your refund processed when the order was canceled from the restaurant side? Such questions need to be answered before you sign up for the first time on your favorite restaurant's web portal.
A Delightful Digital Experience:
Not all food ordering websites' portals are made the same way.
For a reliable food ordering platform to perform at an optimal level, there has to be digital cards that help customers to place their orders within a matter of seconds. People like "easy", and when it comes to food ordering apps, your favorite website doesn't have to be complicated.
Our best advice is to go to different food ordering websites on a trial basis and see what works for you. Obviously, not all of those operators will be your most favorite go-to online restaurants, but some of them will definitely stick around on your preference list for the reasons stated above.
It's the Right Time to be Using Food Ordering Websites In UAE| Here's Why
Just to let you in on some insight, here's why the food ordering experience for customers is expected to scale up in near future. While it's true that COVID caused a seismic shift in deviating customers' buying habits, the food industry is reportedly engaged in offering a convenient solution to fulfilling orders for their customers.
Besides that, millennials are known to have a short attention span. The current generation loves fast, easy-going, and reliable services, where people don't have to wait in queue for their orders to be fulfilled.
Here are a few more reasons why you should be completely switching to food ordering websites in UAE.
MENA Research Partners, in association with Fat Bit Technologies, conducted special research on the food sector spread across the GCC channel (*Gulf Cooperation Council). It was reported that the sector will grow by at least an additional 7 percent annually in online food ordering trends.
Online restaurants are banking on the hyper-local marketing options in Abu Dhabi and Dubai. For that reason, the food ordering websites in those regions have a favorable environment in terms of high-return growth potential. Since the COVID pandemic happened, healthcare institutes' legislations and lockdown policies ensued a visible growth in the overall mobile app-based food ordering frenzy.
UAE food ordering websites win their customers over through loyalty programs bundled with remarkable servicing standards and top-of-the-line food quality.
Blink is your #1 Online Ordering Platform for Restaurants
Best Food Ordering Websites for Food Lovers in UAE:
The traditional values of a modern-day food consumer go hand in hand with modernism and value-added services through different food ordering websites in UAE.
Just like their foreign counterparts, food service providers in the Middle East are working hard to retain their customers through a slew of intelligent marketing strategies, reliable services, and incentives that are hard for an everyday customer to pass up on.
Here's a list of the most famous food ordering websites in UAE that work wonders when it comes t on-demand food delivery apps with a twist of halal food and traditional menus.
Best Online Ordering Websites In UAE – Updated List 2021
1. Talabat:
For tech-savvy customers, Talabat's native food ordering apps have pulled in a staggering 10 Million active downloads, followed up with almost 7 Million Apple users.
Regardless of whether you are looking to place orders through a mobile app, or Talabat's official website, one thing is for sure – i.e. fast food delivery with oodles of tasty delicacies to choose from. The service maintains a variety of shuffling digital menus that not only bring something new to the table but also change according to your personal ordering history from time to time.
Talabat is also known as one of the largest food delivery platforms in the Middle East due to an indigenous combination of halal Arabic menu options. Needless to say, orders are handled in a very professional manner due to handling standards and fast delivery services at riders' end.
What Does It Have for Name Brand Restaurant Owners?
Talabat is successfully maintaining well over 1000 employees under its digital platform. Customer inquiries are met with a seamless food delivery experience without any setbacks.
As a restaurant owner, you can get web experts to create a Talabat app clone to run your operator services in the UAE. Blink Co. maintains a healthy dose of food operators that get the following perks after signing up as a partner:
Dedicated White Labeled User Panel
Access to Customer Analytics, Geo-Fencing Tools, and Other Useful Data
Dedicated Delivery Boy/ Fleet Management Panel for Riders
Under ordinary circumstances, preparing a food ordering website or an app easily costs around $15,000 to $30,000. Not to mention the fact that maintenance and security patches incur an additional fee, you don't have to spend that much as a startup-level restaurant owner.
Blink Co handles all that, and more through a nominal subscription service. Find out more today at our Blink for Restaurants page.
2. Deliveroo: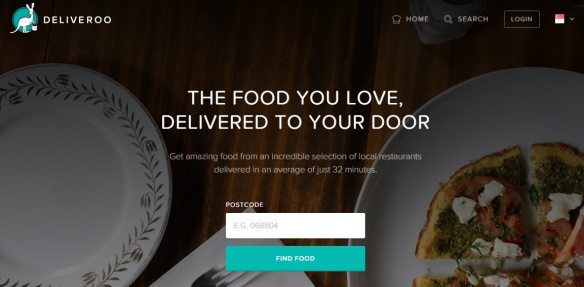 There's a reason why Amazon invested a sizable chunk of money into expanding Deliveroo in the UAE. Today, the food ordering portal handles millions of users on a daily basis.
Deliveroo was founded in 2013 and slowly scaled up its operations to meet the demands of food lovers from all over the UAE, Europe, and the UK. Next to Talabat, Deliveroo comes as the second-best option when people need to order food with minimum wait time.
Deliveroo's UAE dedicated menu features a combination of halal food menus sprawling over fast food items, homecooked meals, and traditional Middle Eastern confectionaries for people with sweet tooth. If you haven't tried Deliveroo yet, rest assured, your high expectations will be met with professional services.
What Does It Have for Name Brand Restaurant Owners?
Deliveroo features the following perks for restaurant owners who wish to partner up:
Dedicated End-User App for your Customers
Provider Centric App
Delivery Services/ App
Role-Based User Accounts with Super Admin Privileges to Maintain Security
3. Zomato: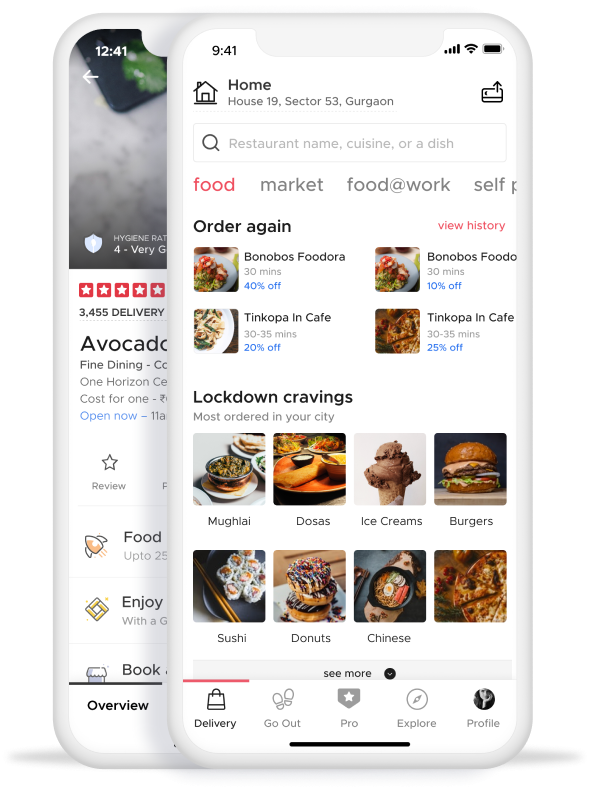 Founded in 2008 by Deepinder Goyal, Zomato took off as one of the most reliable South Asian food ordering websites.
With the passage of time, the company expanded its outreach to UAE customers. In that sense, Zomato maintains and understands the traditional menu preferences of a Middle Eastern user. With an active user base in Dubai and Qatar, Zomato is looking to have a strong presence in UAE in near future.
In terms of menu options, customers can choose between a variety of halal Middle Eastern food bundled with fast-food-style menus. The food aggregator boasts more than 100 million Android users and 70 million iOS users. Give it a shot and thank us later!
What Does It Have for Restaurant Owners?
Restaurant owners in the UAE are offered plenty of perks for signing up with Zomato. Some of them are appended below:
Restaurant Owner App
White Labeled Delivery App Portal
Customer Front End App
That's not all. In lieu of COVID restrictions, Zomato has introduced a contactless delivery option in UAE and other countries to maintain strict adherence to healthcare standards. They have taken good care of their employees and customers without affecting food delivery standards anywhere within and outside the UAE.
4. Uber Eats: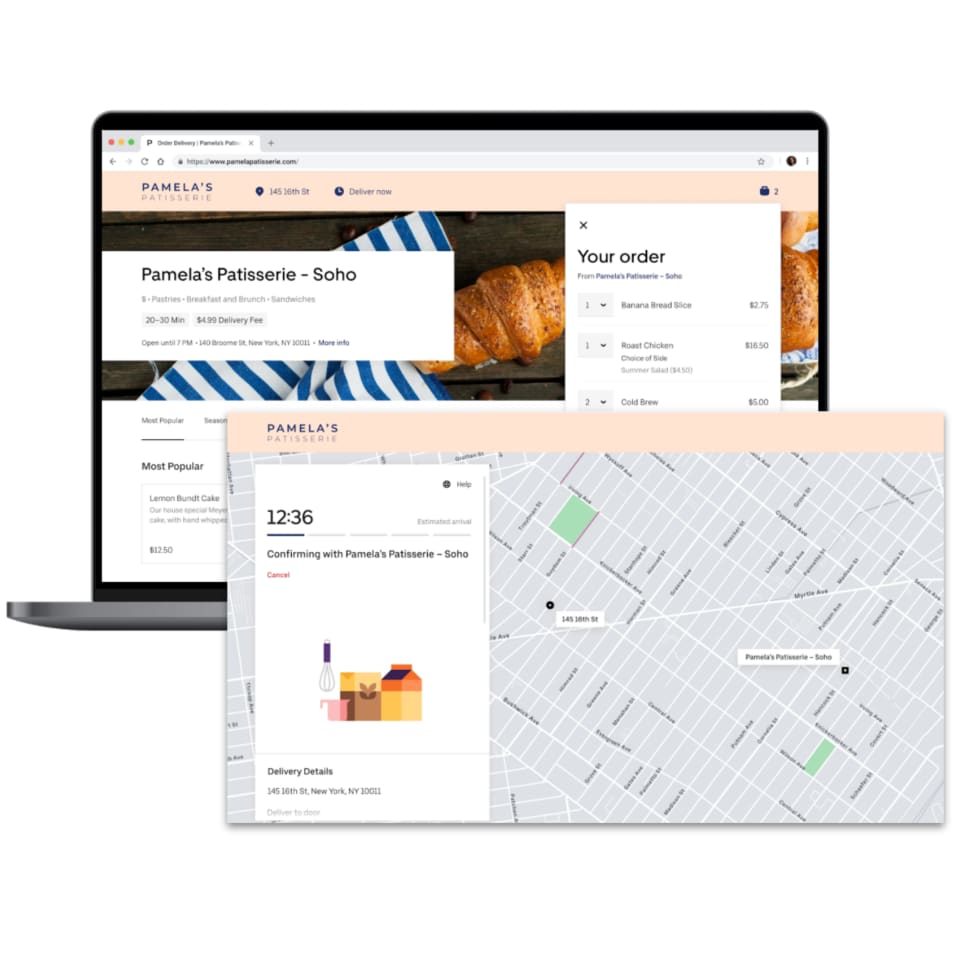 Next to come on our food ordering websites in UAE is none other than Uber Eats.
You already know and recognize 'Uber' as a popular ride-sharing service. Although, there's a rare chance that you may not have heard of, or used Uber Eats, before – but know that the company is extremely popular in UAE for reliable food ordering options.
Uber Eats was founded in 2014, which relatively dubs it as a "recently founded company" in millennial lingo, they have a strong foothold in different parts of the world. For UAE users, Uber Eats menu combines a handful of Middle Eastern delicacies ranging over breakfast menus, lunch, and dinner options.
Needless to say, this food ordering website has something tantalizing for everyone out there. Go ahead, and give it a try and let us know how your food ordering experience went via Uber Eats through the comments section below.
What Does It Have for Restaurant Owners?
Restaurant Side App
Delivery Agent App for Fleet Management
Front End Client App where People Can Easily Place Food Orders Online
Uber Eats boasts high standard sanitization practices and contactless delivery in wake of recent COVID-19 prevention restrictions in the UAE.
Update: UberEats No Longer Working in the UAE


As of recent business developments in the UAE, Ukraine, Egypt, and a few other countries, UberEats announced that it won't be continuing its operations in those regions.
The announcement was a direct result of UberEats' refusal to accommodate restaurant owners, and small F&B startups in terms of monthly/ annual percentage fees. According to the most recent tally, UberEats was charging up to 35% flat commission to UAE food business owners.
For people in the UAE, UberEats will continue to operate through a direct collab with Careem. If you are interested in UberEats alternatives, scroll through this post for our recommended list of best online ordering websites.
5. Careem:
Careem has been operating in UAE since 2018. The company's services have been met with raving reviews from customers who regularly rely on this food ordering website for halal menu options.
The platform delivers food through Careem Bike and Careem Captains who have their own dedicated app that helps to track down customer orders round the clock. If you haven't tried Careem yet, be sure to check out their wide range of Middle Easter menus offered via name brand restaurants and startup food business owners with high servicing standards.
If you bookmarked this post in the past for future reference, here are a bunch of food ordering websites that we have added to our listicle.
6. Carrefour UAE:
Carrefour UAE, also dubbed as one of the best online order websites for groceries and general use items, is doing very well. Thanks to a warm reception from customers in the MENAP region, Carrefour UAE is a reliable food delivery network – and that too, at competitive rates.
We recommend this app if you are interested in ordering groceries and food ingredients. Since Carefour UAE has tons of customers to cater to, ordering fulfillment usually goes through booking slots. For the best customer experience, book your food delivery during off-peak hours.
In case your favorite food items are not in stock, Carrefour UAE will make sure that they are sourced and available on your next order.
7. Fruitful Day:
Ever heard of Fruitful Day food delivery app in the UAE mobile platform market?
If you haven't, then it's time to give it a shot. You can choose between Staple Box options with standard food items in them. Fruitful Day operates based on a subscription plan, where they send you goodies on a whim, without you knowing what's inside the crate.
For the best experience, we recommend signing up for Fruitful Day Mystery Box UAE. They'll send an assortment of fruits, directly imported from Jordan, the Philippines, and other parts of the world. Overall, it is one of the best food ordering websites with a steady consumer base from all over the MENAP region.
8. Instashop UAE
Instashop UAE is another one of those food ordering websites that can be counted on for a delightful customer experience any time of the day.
According to the company reps, their goal is to liberate people from food fetching chores that must be done but are equally boring. All you need to do is install the Instashop app on your cellphone to order food, groceries, and other items in Dubai. They will deliver to your doorstep within a 30-to-60-minute timeframe.
You can also schedule your food and grocery item deliveries in advance if you are not going to be available for receiving your goodies anytime soon.
What Does It Have for Restaurant Owners?
Restaurant owners can partner up with Careem through the company's online portal. On that note, if you are recently unemployed in the UAE due to COVID-19, you can sign up as a Careem delivery agent in few easy steps.
Regardless, Careem ensures a steady stream of incoming customers by offering restaurant owners:
Dedicated Customer-Centric App
Restaurant App with Back End Access
Delivery Agent App Interface for Order Monitoring
9. Eat Clean
We have mentioned this app in other blog posts on our website based on the notion that 'Eat Clean' is one of the few food ordering websites in the UAE that promotes healthy eating habits.
Whether you have specific diet restrictions, or you're just looking to buy something fresh and low-calorie, Eat Clean has got you covered. Unlike conventional food ordering websites in UAE, this website does not offer meals on order. Instead, they focus on riling people up for daily, weekly, and monthly subscription-based meal plans. 
You can create your own menu, or go for pre-made packages. Eat Clean will deliver to your doorstep without inconveniencing you.
10. EatEasy
Yes, this one almost sounds like the Eat Clean Dubai food ordering app that we mentioned earlier, but Eat Easy is slightly different. Unlike its former competitor, Eat Easy is all about getting any type of food delivered to your doorstep. Although they don't lean much towards healthy food, you can go through the EatEasy menu to see what choices you have.
Each restaurant on this app will have a food delivery time frame for how long is it going to take to get the food delivered. Also, restaurants have a rating between 1 – 5 stars to justify their servicing and food quality. 
Overall, Eateasy has a  mobile-friendly user interface, bundled with an assortment of good old biryani, burgers, and pizza recipes that are too hard to dismiss. 
11. Leela's Lunches
Up next on our list of food ordering websites in the UAE list is Leela's Lunches. Since this company is based on the 'Mom n' Pop' recipe styles, it is more of a household name among food lovers across the UAE. 
What makes Leela's Lunches unique is a balance of healthy clean food and other dietary items that don't pack on extra pounds around your belly easily. You can order from a range of different food items through the Leela's Lunches food order app. They crowd out junk food and replace it with whole grain, homemade dishes, fresh on-the-day vegan food, and many other savory delights. 
12. Lulu Hypermarket
Last but not the least, there's Lulu Hypermarket, a next-day food and household delivery app for people residing in the UAE and other countries. They have a decent variety of fresh fruit, vegetables, vegan deli meat, and more. 
If you're not in the mood to satiate your hunger, Lulu Hypermarket also sells hygiene and electrical appliances. Overall, as one of UAE's most popular 'multi-purpose' food ordering websites, Lulu has got your home-cooking needs covered.
Over to You:
We have only listed a handful of food ordering websites in the UAE. There are plenty more where that came from. Be sure to bookmark this post and check it out later for some nice value-added recommendations.
In case you have a favorite website that isn't listed in this post, write to us through the comments section below. We'd love to hear from you.
Would you recommend this article?